12 May 2012 I started to practice Zhineng Qigong. I was ill when I started to practice, with pains and lack of energy. I hadn't been able to work since spring 2000. It wasn't because I hoped to get better health that I came to practice. I had practiced another qigong method before and also different forms of yoga. None of these had given a lasting improvement of my health. It was a lifelong and strong wish to sing that led me to Zhineng Qigong.
In spring 2012 I noticed a poster about a course in voice mindfulness in the waiting room of my craniosacral therapist. It was a course for 21 days and practicing Zhineng Qigong was an important part of the course. I signed up for the course, it started and things began to happen! The first thing I noticed was that hope, joy and sense of humor started to pour into my life again. This gave me strength and will to keep on practicing.
During the five years that I've practiced Zhineng Qigong I've got significant health improvements and today I'm free from a lot of the pains that distressed me. It's fantastic!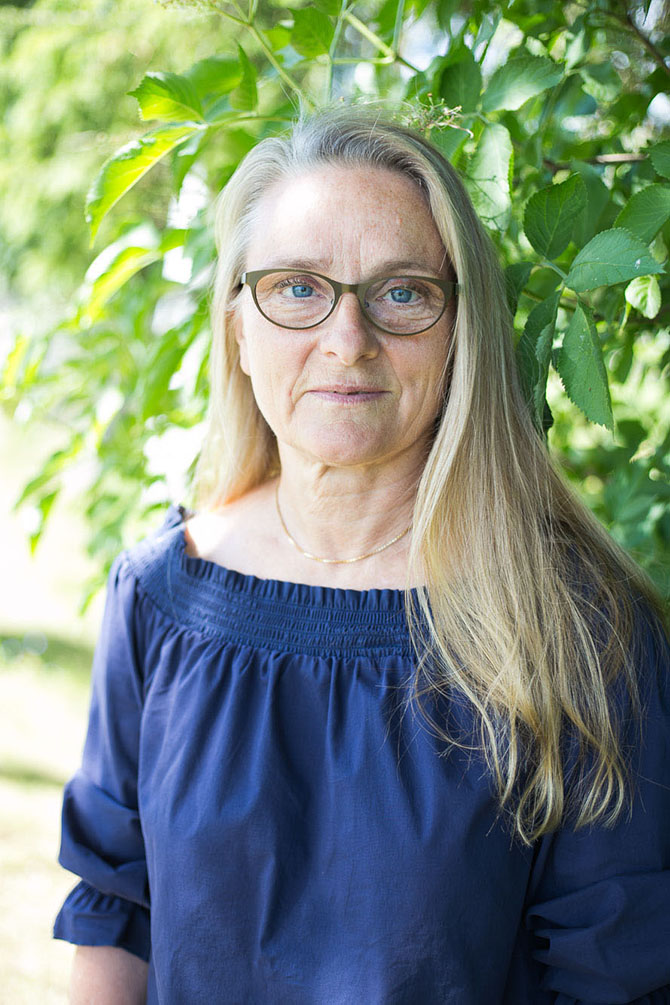 In all these areas my health has got better:
Injured painful feet
As a child my feet were injured. This caused a constant pain in my feet. Today I seldom have painful feet and I never feel that intense pain I had before. My feet also look different now. They are relaxed with space between the toes. It's as if I have my "child feet" back. My balance has also got better. Maybe it's simply because today I stand on my feet more steadily.
Whiplash
I was injured in a tram accident in the late 80s. I got a whiplash which caused pains in my head and neck. Sometimes I had difficulties with reading. My eyes didn't function as before. Small things could start the pains, like lifting my arms above my head or holding my son's hand. It was also difficult to sit down. Today only a small fraction of these problems remains.
Tinnitus
Before I was bothered by tinnitus. Most of the tinnitus problems disappeared soon after I had started with Zhineng Qigong. Today only a weak noise remains.
Chronic fatigue syndrome
In Autumn 1999, I got a virus infection with pains in muscles and joints. After a week the fever was gone but the pains remained and my energy level was very low. I often felt influenza symptoms. By spring 2000 I could not work anymore which made me feel enormously sad. After years of investigations, hospitalizations, physiotherapy and help from a pain team I got the diagnosis chronic fatigue syndrome. Today in August 2017 most of the pain is nothing but a memory. I have strength, energy and a lust for life.
Irritable bowel syndrome, IBS
Since my childhood I've had stomach pains and problems with digestion. I also didn't tolerate certain foods so well. After a stomach operation the problems got much worse. I had constant pains and I lost weight because of diarrhea. When I was hospitalized I tried a diet avoiding certain foods which made me better but I still had pains. Today I rarely have stomach pain and I can eat more of those foods that I didn't tolerate before.
Vulture neck
After one year of Zhineng Qigong practice my physiotherapist noticed that my vulture neck had disappeared. My physiotherapist and I noticed how I got better step by step and we decided that I should put my focus and energy on practicing qigong because of its good results. I finished physiotherapy.
More good results:
It's easier to breathe and I sing with better quality and with joy!
I've also continued to practise voice mindfulness with good results. Today I can sing for my little grandchild in a light and joyful way. This is a great pleasure.
It's easier to deal with difficulties and big changes in life
Qigong is today also a tool that helps me to deal with difficulties in life. I'm calmer and more balanced.
I've become taller
When we get older we tend to get shorter. When I had practiced for a half year it was time for me to renew my passport. When my height was measured I discovered that I had become taller. I found it hard to believe and checked my height several times. Today I'm in fact taller than in my youth and I had to change the information about my height in my passport.
I'm happy and grateful that I found Zhineng Qigong and that I have been able to keep on practicing. It has been very helpful for me to participate in the group trainings, weekend courses and the fantastic summer courses arranged by European Zhineng Qigong.
Lotta-Karin Klinton