The Winter Course of 2019 (16th-24th of February) saw many happy returning participants. As one participant put it: "I have experienced some of the happiest moments in my life during the summer and Winter Courses. So I keep coming back."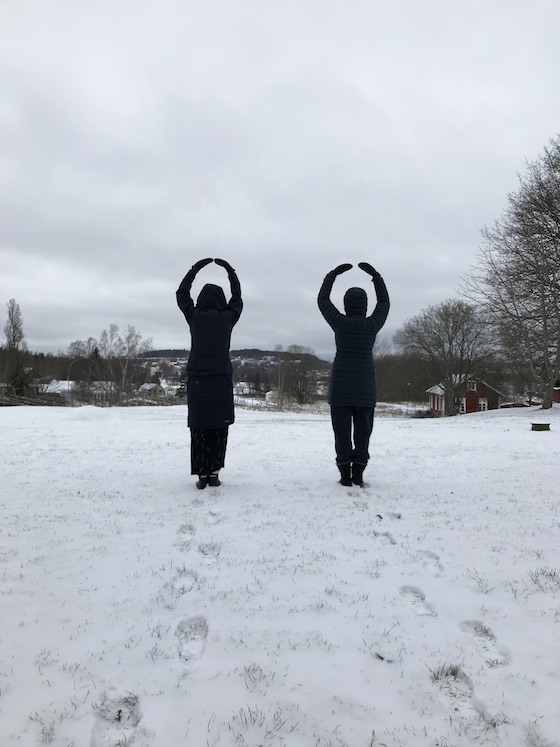 The things that all these returning participants appreciate so much was all there this year too, for new and returning participants alike: A strong qi-field, a lot of harmonious and powerful training, interesting lectures, good mood, as well as time to hang out with new and old friends. The friendships formed at these courses are based on the basic common interest that the participants have: To strive for improved life quality.
Several participants talked about improvements that they felt during the course, but as many have found out quite a few improvements will show up when their normal daily lives resumes.
This year's questionnaire showed that as much as 77% of the participants got reduced stress during the course. 73% got more energy and the same number of participants got improved concentration. This is illustrated by the diagram below.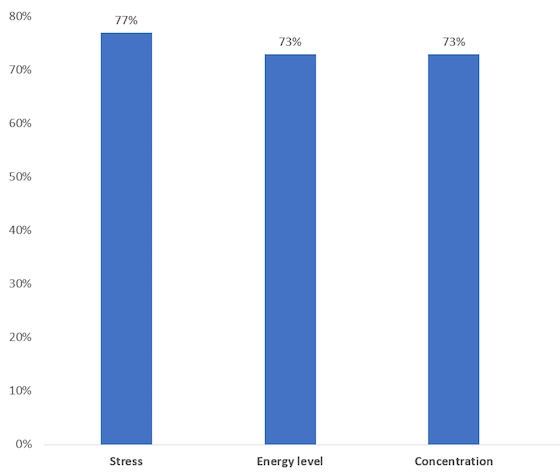 Below follows some of the participants' comments:
After the weekend course
Big change
"It started with a big change during the Eye-course yesterday. As soon as I came into the room I felt something happened. It must have been a good thing because today things went very well, my movements are so nice. I almost do perfect movements! Thanks. It was such a good course."
Warm and agile
"This was my first Shenxin Course, and it's been amazing. I was stressed and had a lot of pain in my body and I was worried that I would not manage to do the movements in this course, but it's gone beyond all expectations and now I feel warm and pretty agile in my body. I'm going to stay during the week which I'm very grateful for."
Happy and warm back
"It's been a little tough for my body and soul before I came here. I became very happy as soon as I decided to come here. These two days have been amazing. I feel that I've been guided by the qi-field. I've had a lot of back pains before and it was warm in my lower back and things were moving there. Amazing. Things are also happening in my legs. I feel a great thankfulness. I feel that this is the right place to be. During the eye training, something happened. Among other things when I moved my hands across my eyebrows, and also during other movements. It was very powerful yesterday to do these movements in the qi-field."

After the Winter Course
Slender
"It's been a fantastic course. Very nice and I always get nice tips from the teaching. I feel much more slender and it's the best health vacation I have had. Thanks a lot!"
Strong wish for an improved foot
"I had a strong wish. When I entered menopause my foot got strange and stiff. I like to be active so it makes me sad. It's not that stiff after the course. I hope my foot will be perfect. I like to dance and live and would like to run around. Hopefully, it will soon be ok."
Symptoms of Parkinson alleviated
"It's my first Winter Course. It was though and fantastic. The feeling to be in the qi field with all the wonderful people is amazing. I have Parkinson and many of the symptoms from the disease have been alleviated. I even forgot to take my evening medicine. The same thing happened on the summer course. During Thursday I got great help from the qi field, it felt like magic. My hands were pushed out by something. Thanks to all of you."
No headache and back feels better
"This is my first Winter Course. It's been comfortable and wonderful to feel the qi field. It was really strong. I got many good results. I usually have headaches but haven't had that during this week. I have slept very well. I've had back pains during some months, the pain also went down into my legs. My doctor said that there isn't much to do about that. I thought that qigong would be able to help. My back feels better. It's nice to know that I have the tool to get better. After long training sessions, I want to lay down, at the same time, I think it is better to talk to others. I get more qi that way. The course has made me cheerful."
Peaceful mind
"I have less disturbing thoughts. I experienced two evenings with much less disturbing thoughts, it happened when I did Kai He Fa and Three Center Merge. It was wonderful to go to bed, my mind was peaceful. I enjoyed the exercise very much."
Back pain
"I think we have got a lot of qi. I had a disc herniation last autumn. It was very painful and I had to stay in bed for a month, I wasn't able to stand. Here, I got that feeling back and was afraid my disc herniation would return. I talked to the teacher who told me to trust the qi field. I kept on practicing and my back feels very good now. That was a really positive experience."
Warm body
"On Sunday when we had tea and listened to the lecture I got really warm inside my body. I usually feel cold but during that might I was warm. I didn't know if it was this thing from the lecture that remained with me. I'm usually freezing but haven't felt that during this course at all. Very comfortable."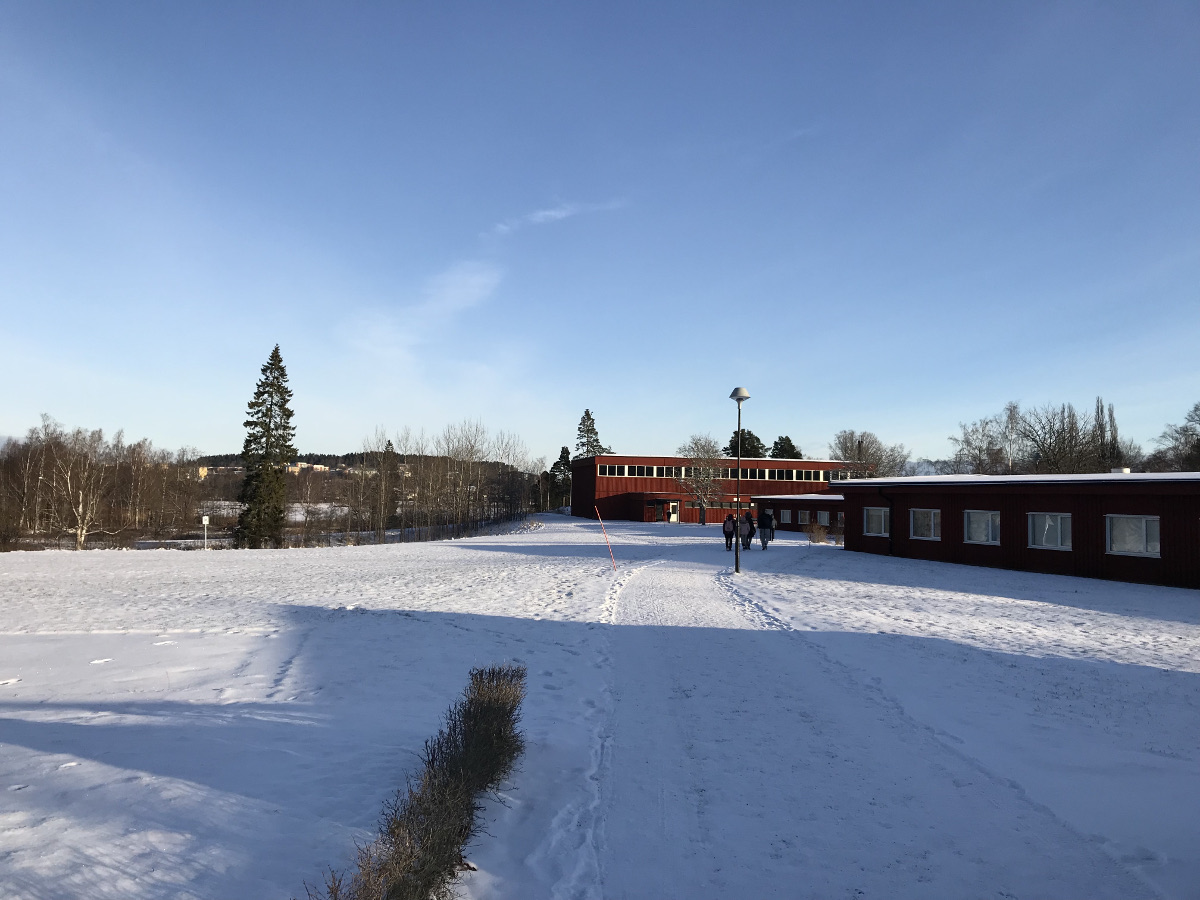 More energy and better circulation
"At home I've been very tired, I needed to sleep 10 hours every night. Here we have practiced all day long and I've almost not slept, maybe a maximum of 5 hours. I'm surprised, I feel very good about that. My circulation has improved. I can get lower down in the squats, and this has been a challenge for me."
Pain and stiffness disappeared
"To me this has been a good course, but somewhat different. I'm not used to have physical pain when I practice. During this course, I have felt bruised. One day I had a lot of pains in my right hip and lower back. At that time the teacher said we should stand up and think that the pain disappeared. I felt that "This is enough… The pain shall disappear NOW." The pain was immediately reduced and later disappeared completely. After that, the course has been fantastic. I feel more agile. When I had back pains I could not bend my body, squatting as very difficult. I felt stiff, but after that things have loosened up for me."
Stronger every day
"I have become much stronger here, day by day. I feel much calmer, not so stiff in my upper body and back, and also more relaxed. Here, I have not felt too hot, which I have caused me a lot of discomfort before. I much liked the short lectures about how we can improve our training, for example, our concentration. To hear how I should do it helps me a lot. This was a very stable course for me, and my best course ever."
Teacher:
Herbjörn Wilhelmsen