Five years ago I saw a poster about the summer course in Zhineng Qigong. I got some more information about the course, but I thought that it was too expensive for me.
Worn out hip
During the last 30 years I've been working at a home for elderly people. This last year I became totally exhausted. As early as in May I applied for a vacation. The three last days at work I couldn't even walk. My upper thigh was very painful and I had to use crutches for several weeks. I couldn't use my car for three months. The doctors gave me medicines but nothing worked. In the end they said that my hip was totally worn out. I didn't get better. It wasn't possible for me to go for long walks any longer, even though I loved to walk and to go skiing. Others with similar problems said that an operation was the only option.
But I didn't want that. I wanted to do something else. It was time for me to try Zhineng Qigong. I started with a basic course and four years ago I went to my first summer course. After the first day at the summer course I didn't expect to be able to walk to the training hall. I could only stand on my leg for short periods of time because of the pain. But the morning after the pain was gone.
The painful ache disappeared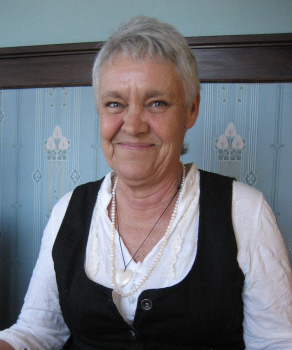 The course was hard, but when I came back home I noticed marked improvements. The painful ache I had had earlier was gone. I was walking with my husband to a café when he said "You don't limp at all now". It means a lot to my quality of life to be able to walk outside with my dog every day.
The vision improved after a summer course
After the summer course I was going to visit my father. Halfway there I had to stop and remove my glasses because they didn't work for me anymore. I went back to my optician and told him my glasses weren't strong enough. When he checked my vision again, he found the opposite. My glasses were to strong.
Before the course I used to go to the toilet every night. Now I noticed that I didn't have to do that anymore. In addition I now could sleep all night.
Better mental state
When I was at home and sick depression closed in on me. It really bothered me that I couldn't go outside or drive a car. Now my mental state is much better. When I practice regularly I can perceive smells and hear sounds that I don't usually notice. I feel really strong.
The circulation in my hands is back
In winter time, because of a snake bite, one of my hands gets white because of bad circulation. During a training session I got pain in the hand. Then the pain disappeared and since that my hands hasn't turned white.
The foot wart was gone
During two years I've had a wart. It was getting big and started to hurt when walking. Last summer when I sat on the floor and touched my foot and I discovered that the wart was completely gone.
It feels like Qigong has gone through my whole body and taken all my problems away.
Anita Åstrand